Our donors and partners are more than supporters - they make the dream of ASYV a reality. Thank you to all of our ASYV family for making a difference in the lives of our students.
Interested in partnering? Contact us.
Supporter spotlight
We are thrilled to spotlight our 2018 gala honorees, three long-time Village volunteers: Phyllis Lerner, Martin Phillipps, and Mikey Walker!
Phyllis, Marty, and Mikey received this year's Anne Heyman Spirit Award, which honors those who demonstrate the best of what makes ASYV a family: passion, dedication, and love for the kids of the Village.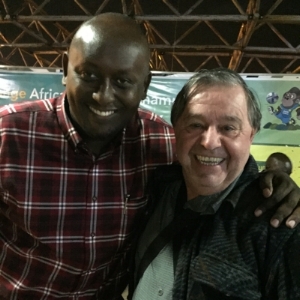 Supporters
Trudy and Robert Gottesman ∙ Kirsh Family Foundation ∙ Seth Merrin ∙
Vivian and Edward Merrin ∙ Pierre and Pamela Omidyar Fund ∙ Elizabeth and Emanuel Stern ∙
The L & R Uechtritz Foundation ∙ Thomas and Janet Montag Family Foundation ∙
Laurie Toll Franz and Jeffrey Franz ∙ Robert and Jane Toll ∙ Weinstein Foundation, Inc.